Product Updates
Since last month's roadmap update, we've focused on improving the usability and customization options in Topaz Photo AI:
Basic Brush to edit subject selection
You can now access a new basic brush to manually refine auto-detected subjects:
You can use the Basic Brush alongside the default subject selection and the AI Brush. Basic Brush is enabled when the AI Brush toggle is disabled in the right panel:
You'll also notice that softness / feathering is applied all at once instead of per stroke. Because the brush is for subject refinement rather than precise selection, it's intended to be fast, simple, and easy instead of a comprehensive painting tool.
Apple Photos extension
You can now select Topaz Photo AI in the Apple Photos Edit → Extensions (…) menu:
The processed image will replace the original in Apple Photos, but you can undo the edit by clicking the Revert to Original button. You can also first duplicate your photo before running it through Topaz Photo AI if you prefer.
Note: don't use the right-click → Edit In menu because TPAI will open in standalone mode, which will prevent the finished image from automatically appearing in Apple Photos.
Better cropping
The Crop tool now always stays centered and works more intuitively than before: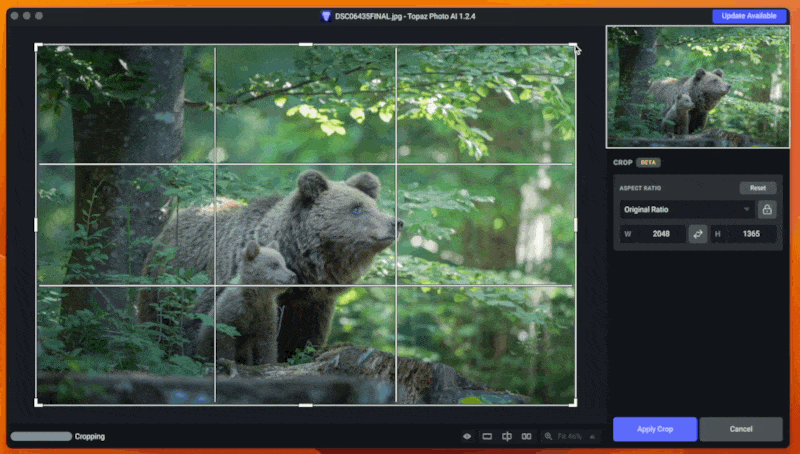 We've also fixed a ton of edge cases and potential crashes, so the whole cropping experience will now be a lot more reliable.
Enhance Resolution parameters
You can now manually adjust Enhance Resolution parameters for more control over upscaling results:
These settings describe the input image rather than the strength of the effect. In other words, for each image there's a perfect combination of optimal values that Autopilot tries to detect. If you feel like Autopilot's not doing a good job, you can now experiment with them yourself:
Suppress Noise: the level of color / luma noise in the input image
Remove Blur: the degree of softness or motion/lens blur in the input image
Fix Compression: the level of compression artifacts like jpeg blockiness and aliasing in the input image
Please let us know if you see Autopilot consistently misapplying settings for certain images.
Smaller faces are now sharper
v1.1.9 introduced a Face Recovery issue that caused unintentionally blurry output with smaller faces. This is now resolved:
Also, Face Recovery strength now defaults to 80 instead of 100, which leads to more natural results without visible compromise in recovery strength. We'll continue investigating other known Face Recovery issues in the Roadmap.
Other improvements and fixes
Added support for more DNG types (HDR, Monochrome)
Add compression option for PNG exports
Support for opening jif, jfi, jfif, and jpe files
Lightroom Classic Plug-ins Extras integration now copies Rating and Keyword data, stacks images, and preserves metadata from sidecar files
Fix issues with the command-line interface (CLI) for Windows and Mac
For the full list of changes, please read the individual release notes for v1.2.4, v1.2.3, v1.2.2, and v1.2.1.
---
Feature Roadmap
We're now actively working on:
New Remove Noise model for non-raw images that improves slider responsiveness, better preserve textures, and offer adjustable sharpening
New Sharpen model that produces fewer artifacts
Add image straightening to crop tool
Improve Autopilot Configuration flow and add Preferences panel
Improve raw handling, particularly with rendering colors and metadata issues
Resolve occasional blurry patches in Enhance Resolution
Improving the performance of our AI models takes a while, but we think the new denoising and sharpening models will be worth the wait. We're first evaluating the performance of these models before considering subject-only denoising and more Autopilot Configuration options.
Next up:
Improve performance for preview and processing
Improve Autopilot decision-making
Improve Face Recovery edge cases: "pop-up" faces in the background, eye colors, better blending
Explore approaches for more natural-looking text when upscaling
As always, please let us know what you think. If you have images that don't work well for a certain feature, send us the image and comment below.
We look forward to working with you to make the product even better in the future. Thanks for using Topaz Photo AI!