This late update is stuck and the video doesn't export.
is there any trouble shooting solution?
We have a known bug with the in-app updater that can be resolved with the following steps:
Uninstall Topaz Video AI
Delete the app's .plist files - How To Delete Your Plist Files
Reboot your Mac
Hello Tony,
Thank you for your email.
I've already followed up with the steps you mentioned below, but the topaz plist its not showing on my library preference.
I've also attached 2x screenshots for your reference.
Please let me know
Thank you
Fab
Hello,
You'll need to open the Library/Preferences folder by hitting Enter from the screen shown in your images, the preview list only shows sub-folders in that folder, not individual files.
Hello,
I've follow all the steps to install ( twice ) and I'm currently able to scale 2x upscale only on the V3.2.7 and since my 1st email I've messaged to you guys it was the V3.2.6
However, once Im try to 4x or 6x time upscale the time to the interpolation is very unusual as it's stacked and doesn't move at all like 15min.
which in the past ( previous versions ) I was able to do it very snappy.
The file Im using to test its a very clear video and is 2min long and my machine is a MacBook Pro M1 full spec.
I've just upload the screen shot with the settings below for your Ref.
Please advise
Best,
Fabio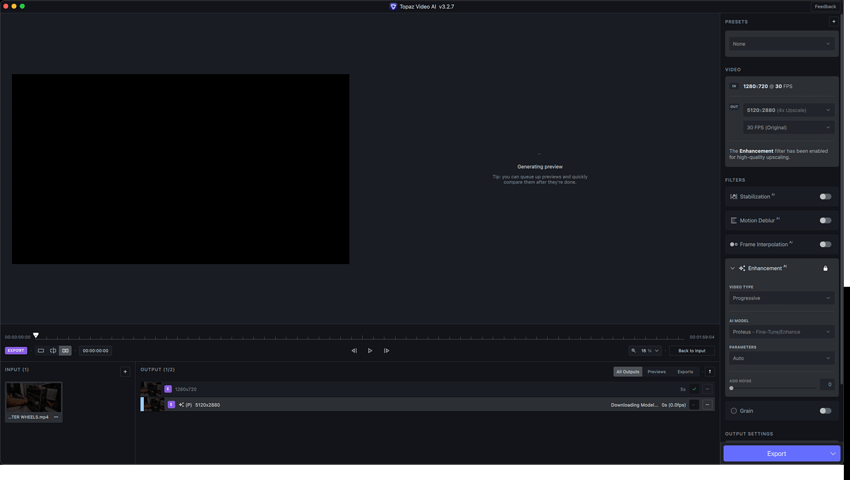 hello Tony,
is there any other updates as I keeping following the same steps and still not solving the issue.
Thank you
Hi Fabio,
Upscaling to 5K can take a long time depending on the settings being applied. Have you tried the app's built in benchmark to get an idea of the speeds possible with your hardware?
Helllo,
I used to upscale from HD to 8k in a hard beat.
I use M1 Max 64GB ram macbook pro.
This last couple versions not only doesn't not do what its supposed to do as it also the video stack.
Ive tested on period of 6 hours and nothing happened.
Best,
Fabio
Hello Tony,
Seems like that the Version 3.2.8 has solved whole previous issues and its working like a Gem
!
Thank you and for the whole TopazLab Team for keeping pushing the bouldering's in imagery
Best,
Fab
Glad to hear that
This topic was automatically closed 7 days after the last reply. New replies are no longer allowed.