I have found a common image characteristic that causes some things to give dim/desaturated results, even though they are not noisy images.
Auto any image/texture that has a low resolution high contrast/saturated detail, but has no noise pattern across the image.
While there is a lot of edge antialiasing due to low-resolution, antialiasing is not noise; aliasing is used to help image scaling not be noisy with classic image processing tools.
Notice Auto classifies it as noisy choosing Remove Noise Normal, and is significantly dim desaturated result. Adjust the Remove Noise model/parameters and see no differences because there is no noise to remove by blurring.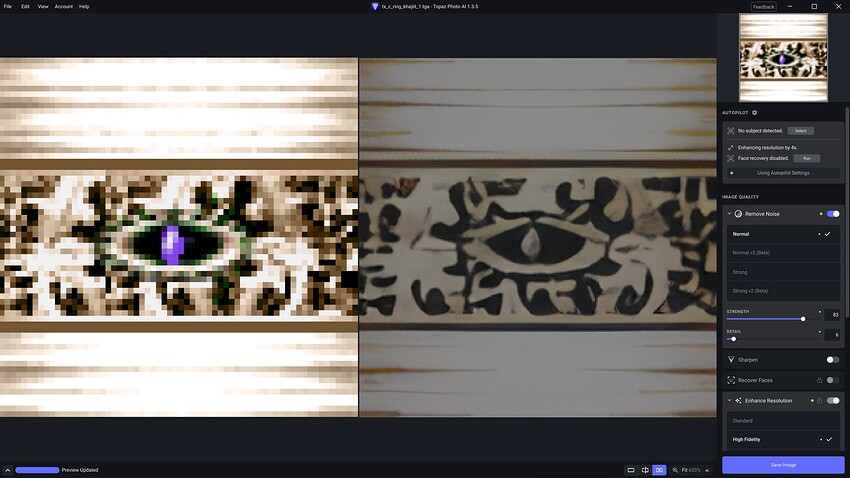 Turn of AI Remove Noise, notice that Auto has selected Hi Fidelity Enhance because Remove Noise had been selected. The contrast and color is NOT changed unlike the Remove Noise AI, even though is still incorrectly classified as needing noise suppressed and compression fixed. Adjust the Enhance model/parameters and see no differences because there is no noise/compression to remove by blurring
I would imagine minecraft textures would be a great regression test for images with this high contrast/saturation but low-rez style. This particular texture is copyright Bethesda for Morrowind RPG but I can provide a list of problem texture if devs are willing to purchase it for $15 on GOG.
Since the dim/desat looks like gamma issue my guess is Enhance AI is doing gamma compensation but Remove Noise AI is not?
---
Topaz Photo AI [v1.3.5] on PC