Hi Talor, I updated with the auto installer and it was working without any issues.
All I have to say is WOW very impressive on the first look. I love the new tutorial as I found them to be very clear and helpful with all the new updates.
Well, in the new version, I see that increasing x2 works much better than x4x6. With this quality, I can finally try to work commercially, thanks. CPU processing saves significantly more useful information in a file for subsequent processing in Sharpen AI. If you need to increase it further, then after Sharpen AI, select x2 again, and this turns out to be comparable to the GPU preview x4. For some reason, the processing is sharper if both sliders (noise and blur) are set to 100.
A couple of times, program 5.0.1 got stuck and did not want to change the file name and enlargement settings, although other settings were chosen, and re-calculated the size by x2.
Today without pictures. You have to take a word.
If possible, also ask to bring to mind DeNoise AI. Now it is the weakest link in the tandem.
Thanks again, I finally waited for at least some close to the expected result.
In this video the guy compared upscale technologies and picked up a winner the imglarger.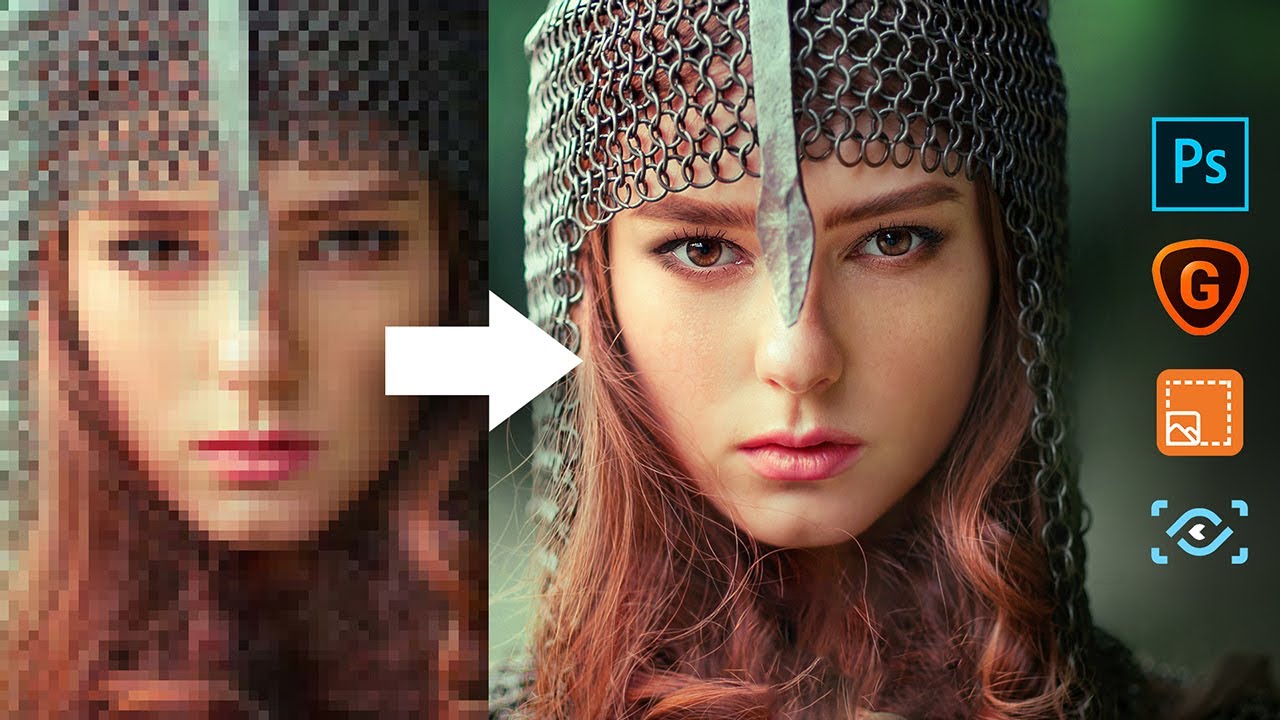 He used Gigapixel 4.4.4 so this was an old version, the issue what the guy talks about have been fixed. (random horizontal lines on the picure)
Now i compared it with 5.0.1 gigapixel.
The results very similar to each other but if you zoom on the picture the gigapixel ai have more blurry details. You see these at the eyes and mouth. The file size at gigapixel is 3.4MB imglarger only: 350KB
I forget to add to the picture the imglarger same 4x upscaled.
I'm not a regular user of Lightroom, but I thought I'd try and launch Gigapixel from it as an external editor. I successfully used it on a JPEG (as a TIFF copy (basically because I didn't pay attention when selecting the format)) and on inspection the EXIF appears to be intact and correct. However, all subsequent attempts failed to open Gigapixel even though the copy image was created. Having played around with the external editor settings to no avail I gave up, only to then find that Gigapixel would no longer open as a standalone - I had to reboot my PC (Windows 10) to get it working again. It appears that it will work once only - but I'm in no hurry to confirm that!
UPDATE: Tried again, this time with a TIFF and got the same result as others have reported earlier - LR reporting image the same size as the original and the EXIF reporting 8 bytes etc. Again only managed one image and now Gigapixel will not open at all.
Oh, I remember this video, he made it a few months after I bought a Gigapixel AI and wrote a request about a blur of the final image. Then all the graphic forums started discussing the disgusting quality of the picture in the Gigapixel AI, but they could already fix those bugs by then.
Unfortunately, the neural networks from Topaz still are very poor recognition of the most popular textures such as hair, skin texture with fluff, tree leaves, flowers, feathers, and the like.
To start reconstructing the texture, they need to use several dozen neural networks in one plug-in, for each type of texture. Now 1.5 Gigabytes are loading, and it will be necessary to load 200-300 gigabytes as in music plug-ins. I am ready for this and wrote about it in correspondence with developers, and this is normal for specialists. But it seems that Topaz Labs is so far afraid of such sizes of uploaded data.
Could you upload a file with a lizard? I want to try it.
The reptile picture came with the new gigapixel program, you find it default location"c:\ProgramData\Topaz Labs LLC\Topaz Gigapixel AI\tgrc\Reptile.jpeg"
But i upload for you.
https://i.ibb.co/1T3dq4F/Reptile.jpg
I think gigapixel is very good state now but it could be better.
If you open the application you will find it as one of the tutorials.
@dency01 AI Image Enlarger is a subscription service if you wan to use a picture above 1200 x 1200. The picture of the lizard is already sharp and no noise so it is not a good example of comparing Gigapixel to AI Image enlarger (AIE) except in the enlargement area only. For one year AIE would cost $180 which is much more than Gigapixel and you have to upload each picture. Upstream speeds are much slower than downloading (just try using a cloud backup service). I would choose Gigapixel any day over this AIE service unless the free service fills the bill.
Ohh okay, i don't have the original picture. But you found.
@dency01 I would like to see a bit more challenging picture. Since I don't have an account with AIE you can run the picture below and post the results at 4x enlargement. I also posted the Gigapixel results along with the original at 100% crop.
Picture to test:

Results in Gigapixel 5.0.1:

You can create a free account and test it for yourself.
Red lines at right eye and lips?? That's a clear win.
I don't agree. There's a lot of "mottling" (for want of a better word) in her skin, particularly down the edge of her right cheek in the AI IMG image that isn't in the Gigapixel one. I'd give the edge to Gigapixel. It shows more clearly in the one I created - Gigapixel on the left and AI IMG on the right:
Yes but don't forget you can fine-tuning in gigapixel, there is no option at img larger and at this picture bit more noisy than gigapixel. But i think img larger overall quaility better than gigapixel now.And the ugly red lines unforgivable at gigapixel.
That's another disadvantage of IMG then, isn't it? I would never have noticed the red lines if you hadn't pointed them out (and I can't see them in mine) but the skin stands out a mile…
I say the same as you i wouldn't notice "mottling" if i not zoom on the picture. Problem is a problem. But peoples like to skip them.
I mean if img larger have a fine tuning option it would be better than gigapixel now. I don't forget the final quaility of the gigapixel is worse than the preview. That is a topic for it. Eric lowery says it's "not much an issue" for me it is. So this is will not be fixed? Let's talk about this.
My take is that its a toss up. Each method has some defects. I can easily smooth out all of them in an image editor. However, the cost of AI Enlarger is at $180/ year subscription makes Gigapixel the better deal. You can go with whichever you want but I I think Gigapixel is faster and more versatile because it is on my computer.
So. My version turned out to be extremely unstable. On average, it crashed or closed independently in an attempt to form a preview every fourth to fifth time.
Thanks Paul. Your image shows:
Gigapixel has smooth, great skin instead of crosshatch weirdness.
Gigapixel has no red lines on lips and eyes. Something's wrong with dency's computer. Perhaps not using the high quality AI models in Gigapixel. No idea…