Since our January update, we've shipped three significant roadmap items in four releases: new upscaling models, a crop tool, and improved subject detection. You can find the release notes and latest download links here.
Finer upscaling detail and more natural results
Topaz Photo AI v1.2 adds greatly improved Enhance Resolution models with a new architecture, 3x larger model size, and better training data. This new approach is a major step forward and significantly outperforms every other upscaling method currently available.
There are two variants, Standard and High Fidelity.
The "Standard" upscaling model
The Standard model excels at generating very natural textures and fine detail, in contrast to more "blocky" results from older methods. Use this model for small images, tight crops, compressed/noisy inputs, or other situations where you'd like to enhance image detail. (In v1.2, the Standard model replaces the old Natural model.)
The "High Fidelity" upscaling model
High Fidelity attempts to "first, do no harm": it's trained to minimize artifacts and create more natural upscales. Use this for already high-quality or high-resolution images with little noise that do not need much detail generated. You can also try this option if you're getting too many image artifacts with Standard.
We're pretty excited about the performance of these models. We've already been tweaking our existing upscaling algorithms in TPAI and Gigapixel for the past few years, but this new approach is truly a step above. We look forward to hearing about the results on your own images.
New crop tool
Topaz Photo AI v1.1.7 added a new Crop tool in public beta. You can access it in the Upscale section: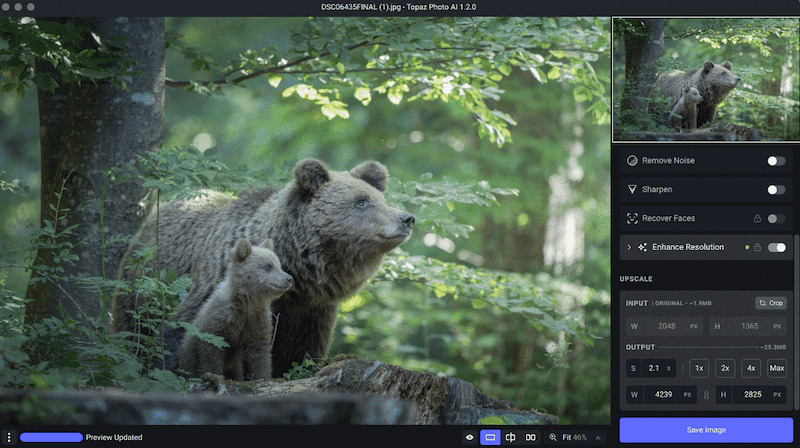 Image © Andrew Macdonald
Instead of making a round trip to an external program, this allows you to more conveniently upscale your desired crop with Enhance Resolution in one go. We'll also add the ability to straighten / rotate your image soon.
More precise subject detection
Topaz Photo AI v1.1.8 improved the precision of the Default subject selection model, which will now perform better especially for wildlife and portrait photos:
The improved masking performance will reduce the percentage of images where you need to manually refine the subject. We'll continue improving automatic subject selection in the future, so please send us images of failure cases.
Many more improvements
We've also improved quality of life, performance, and stability in the last few releases. For a full list of all changes since last month, read the individual release threads for the last four updates here:
---
Thanks, and we're really excited to continue improving the product every week with your feedback! Visit our latest roadmap update to see what's coming next: